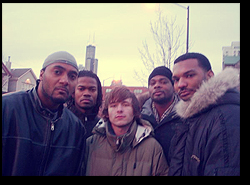 From the MySpace site:
This is a band of actors all except for Swiss(locs) Rodney B (DarkMeat) and Mellie G(bigred) who are actually career MC's who happend to just get their feet wet in prison break. Marshall Allman's bio can be found on the prison break website that FOX is holding. Reesce Mak and Tino G both have promising acting carreers and will be releasing the album with the prison break inmates at the end of the summer after the single burns up the charts.

Listen to "Prison Streets" the song at the band's MySpace site.